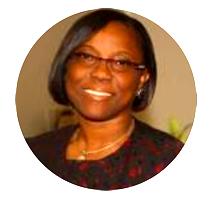 Meet Lola Davies - Head of School.
She was born and received her early education in Lagos, Nigeria. She graduated from Florida International University with an Honors' degree in Public Administration in 1984.
Lola's experience as a mother of three led her into professional child minding. Lola did this for several years before training at the Maria Montessori Training Organisation from where she received her AMI Diploma in 2002.
Since then she has gained valuable experience teaching at various Montessori schools before becoming Head of Little Acorns Montessori.
Our Staff
Bencord Montessori team is made up of the Montessori Directresse, Nursery Teachers and Caregivers. All staff are qualified in their appropriate positions. Like the children in our care, we want our staff to achieve their full potentials. Hence they attend in house training, relevant courses to aid and improve their potentials.

We realize that while in our care, the children look to us as role model which is why every staff member works hard to make each child feel valued and secure. Our staff are aware of the Child Protection Policy and adhere strictly to the Confidentiality procedures.